Explore the New Chevrolet Bolt EUV for Sale in Broomfield
Here at Fowler Chevrolet, we tend to get pretty excited when a new electric vehicle gets announced, as the number of electric cars currently available on the market is so small. Each new vehicle brings along various features and technologies that help it stand out from the segment. This aspect is especially the case when discussing the Chevy Bolt EUV, which aims to deliver drivability, performance, and much more in its compact frame. If you're searching for an electric vehicle that'll serve you in Broomfield, the new Bolt EUV just might be the one for you.
How Does the Bolt Perform?
When compared against the competition, you might think the Bolt EUV wouldn't hold up well against traditionally fueled SUVs. However, this bias just shows how far electric cars have come in the past few years. The new Chevy Bolt EUV is a powerful utility vehicle that can handle an array of terrains and weather conditions in the Denver area. It comes with the ability to switch between multiple drive modes, allowing drivers to easily adapt to whatever environment they encounter.
Plus, the Bolt EUV appears relatively speedy for a vehicle of its class. It can go from 0 to 60 mph in 7.0 seconds, meaning you can have fun in this vehicle while also appreciating its more practical features. With its sport mode, drivers can fully grasp just how easy the Bolt is to handle. It's a vehicle that fits its name, and you'll feel like you're bolting through Boulder when you're weaving your way through traffic and crowded urban environments.
Technology
The new Bolt EUV is already quite a technological achievement with its fully-electric build. Plus, dual-level charging means you can charge it faster and get on the road quicker than traditional electric vehicles. However, we wanted to pay some particular attention to the technology offered by the Bolt's interior, as the new vehicle features some impressive amenities that'll make drives easier and more enjoyable. These features include a driver information center that keeps you updated on your vehicle's stats when you're behind the wheel via an 8.0-inch display. This info center makes it easy to keep track of your battery's charge, how much driving range you have left, and more useful information.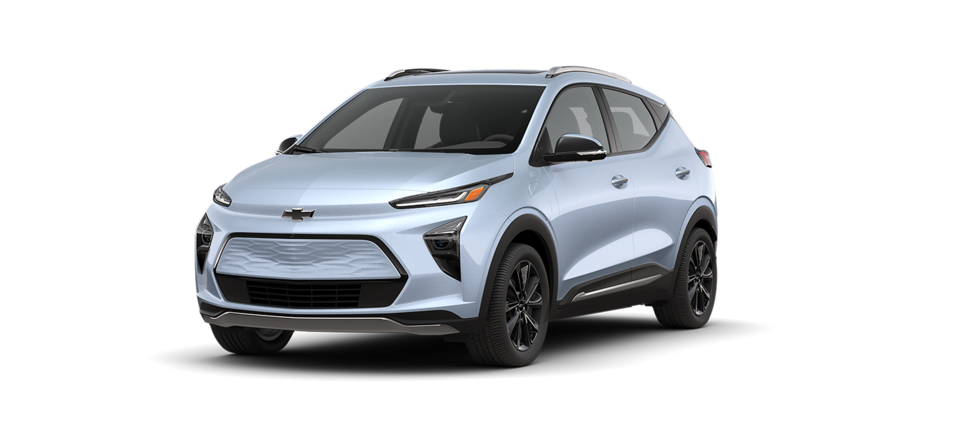 The Bolt EUV also offers Android Auto and Apple CarPlay, and it includes wireless connectivity for when you want to connect your smartphone. This setting makes managing music, podcasts, and general entertainment that much easier. Comfort is also something that designers for the Bolt EUV had in mind. The front seats can heat on select models. When you're driving around Westminster in the winter, the heating function can make your journeys a lot more bearable.
Safety Features
One of the major benefits of driving a compact SUV is that it can protect your precious cargo without adding too much bulk to your daily drives. That scenario holds true for the Chevy Bolt EUV, which features an impressive range of driver-assistance technologies and general safety features. One such driver-assistance feature that we can't get enough of is the available Super Cruise™ tech, which makes maintaining speeds on thoroughfares and highways a much smoother experience. Using sensors to keep track of surrounding traffic and upcoming obstacles, Super Cruise™ allows you to sit back and relax, knowing that no surprises are heading your way. Hands-free driver assistance technology is also available so that you can navigate your way around Thornton with confidence.
Check Out the Bolt EUV in Broomfield at Fowler Chevrolet
If you're looking for your dream electric vehicle and think that it might be the Bolt EUV, then come test drive one here at Fowler Chevrolet. Our team would love to answer any questions you might have regarding financing or test-driving, so come by and give a Bolt EUV a spin.